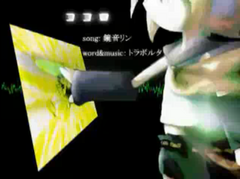 KOKORO (ココロ) is a song sung by Kagamine Rin, and created by Toraboruta-P.
In Kokoro, Rin is a robot made by a lonely scientist. But she is missing something that can't be found in a program: kokoro. After quite some time, her creator passes away, leaving her alone for several hundred years. Eventually, she begins to wonder about the man who created her, and accesses his research. Discovering more and more about the scientist and how hard he worked to create a kokoro for her, the robot is moved and is awakened to a world of new feelings. Overcome with emotion, the robot sings her feelings of sadness and gratitude to the person who created her. However, the kokoro which she found herself was too great for her fake body, and after some time the robot passes away. ❤
Reception
Edit
KOKORO is a very popular song on Nicovideo, and Youtube. Many fanmade PVs have been made for it, and covers as well.
Ad blocker interference detected!
Wikia is a free-to-use site that makes money from advertising. We have a modified experience for viewers using ad blockers

Wikia is not accessible if you've made further modifications. Remove the custom ad blocker rule(s) and the page will load as expected.